HISTORY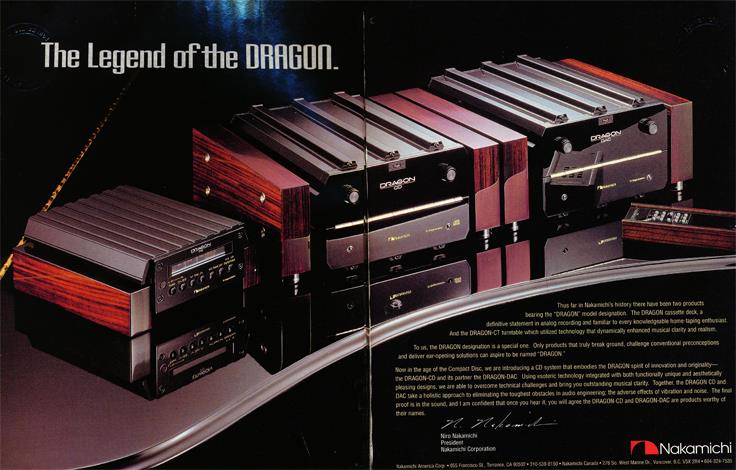 The Nakamichi name is synonymous with quality and innovation in acoustics and visual products. Nakamichi Corporation had its origins in research on electromagnetism, magnetic recording, acoustics and communications.
It started as a research-based organization, commissioned to carry out research and development work for enterprises and government agencies. The Company was initially called Nakamichi Research Corporation Ltd (Kabushiki-kaisha Nakamichi Kenkyojo).
Founded in 1948 by Mr Etsuro Nakamichi, it has delivered top-quality audio products that incorporate sound, style and substance for over fifty years. Incorporated in Japan. Nakamichi's global presence includes Singapore, China, Hong Kong, Europe, Middle East, United States. It is the pre-eminent leader in manufacturing design-driven audio/visual and multimedia systems.
These cherished traditions- of intense curiosity, a love of music and a commitment to uncompromising quality and performance-are behind the products that bear the Nakamichi name.
The Key People in Nakamichi's History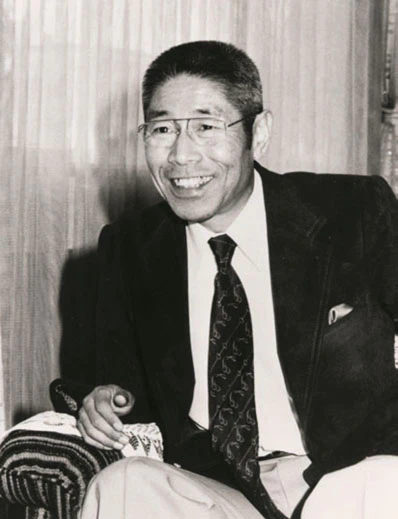 Mr Etsuro Nakamichi was immersed in the world of sonar research. To pursue his dream, he established a Research Institute that was involved with magnetic research. So great was our founder's commitment to music that he created the E. Nakamichi Foundation to reflect the love of music, baroque and other forms of music.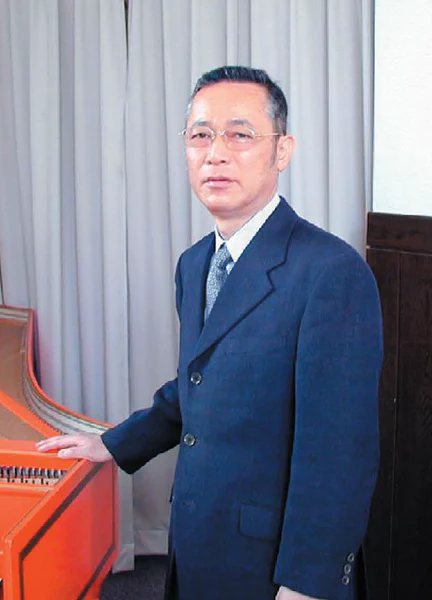 Mr Takeshi Nakamichi joined Nakamichi Corporation in 1972 and had been deeply involved with all legendary Nakamichi audio products marketed in America including the first launch of Nakamichi 1000, world's first 3-Head Cassette Deck. He has been contributing his creative product planning and R&D project management expertise to the successful creation of many unique Nakamichi products including current SoundSpace, In-Car Entertainment and Multimedia Entertainment Station products.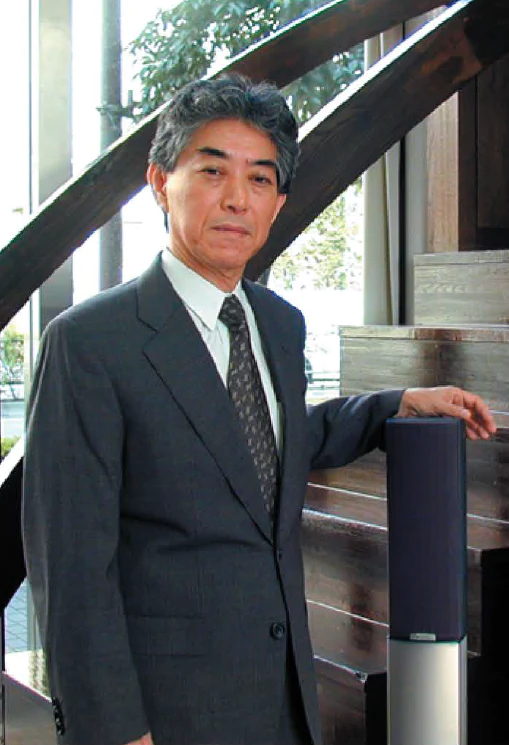 Hailed as one of the world's best acoustic and audio engineer, Mr Kozo Kobayashi's ingenious audio product design sense and ability has been prevalent. He has been deeply involved in the development of every legendary Nakamichi audio product.
One of his significant accomplishments was the world's first 3- Head Cassette Deck - Nakamichi 1000. He relentlessly contributed his expertise to develop numerous highly acclaimed products applauded by the discerning audiophiles.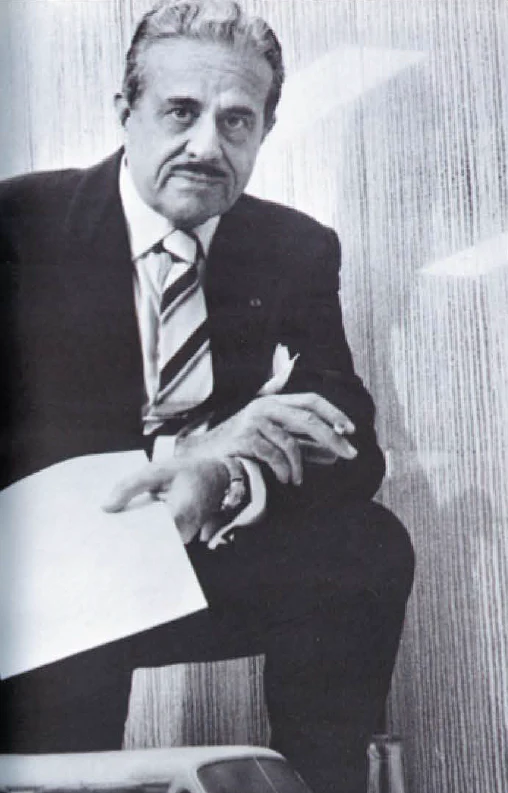 Mr Raymond Lowey - The renowned French designer who created Nakamichi's unique logo. His extensive portfolio includes the corporate logos of Exon, Shell, Lucky Strike and Studebaker Avante. Raymond Loewy's ingenious creation created and captured the essence of elegant, aesthetic design illustrated in Nakamichi's products.
Product Timeline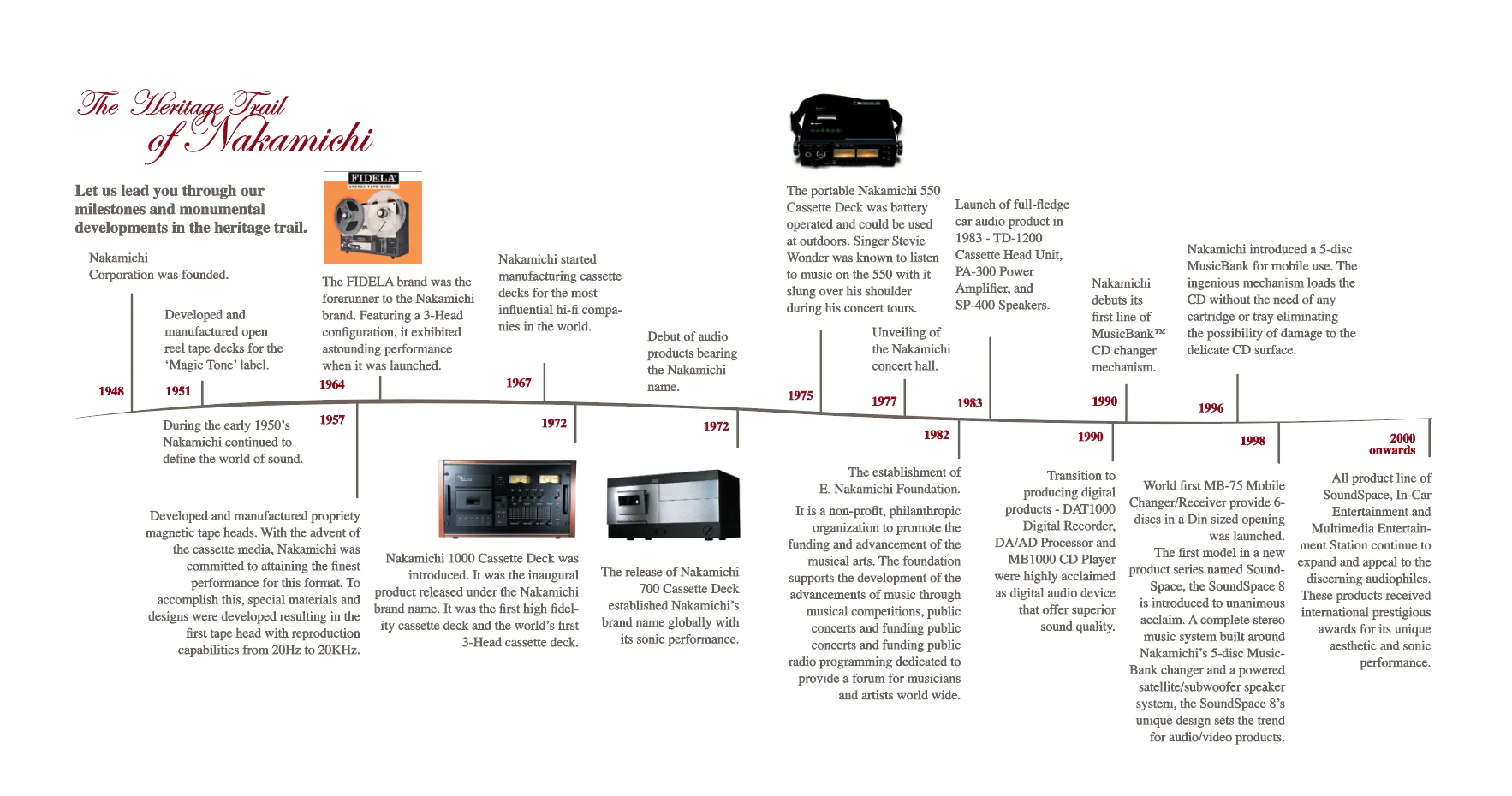 Car Audio Historical Products